"TS Lite" LED navigation light: powerful and ultra-light!
Developed by Lucas Montagne (a former Mini 6.50 series racer) and distributed by Ino-Rope, the TS Lite is an ultra-light LED navigation light, available in three versions: tricolour masthead light, combined/anchor tricolour masthead light, bi-colour pulpit navigation light (port/starboard). Excellent range, precise sector angles, low consumption, lightweight light and cable:performance and safety together at last !
Navigation light for masthead: safety versus performance
Navigation lights disadvantage racing boats by weighing them down with navigation lights and electric cables. These extra kilos are more inconvenient because they are located in the heights. Thus, they have a significant impact on the boat's performance. With navigation lights mounted at deck level, the problem of weight in the heights does not arise. A disadvantage, however, is that they are less visible in choppy sea conditions and they dazzle the helmsman. Choosing between safety and performance, the sailor hesitates !
"TS Lite" LED navigation light : exceptional range !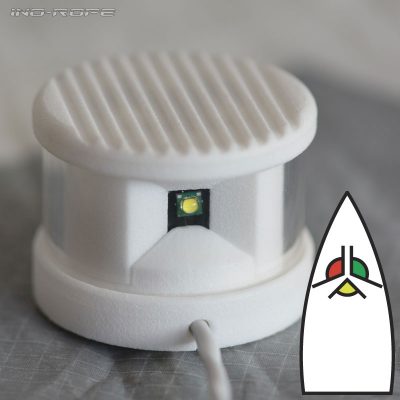 As it is often the case, the Mini 6.50 series were used as innovation laboratories. Lucas Montagne, who was on the circuit himself for years, developed a tri-colour LED mast navigation light to replace deck navigation lights: "for the last 10 years, I have equipped Mini 6.50 boats, and LED technology has progressed in terms of lighting power, precision of angles and consumption". The TS Lite tricolour navigation light has a range of about 8 miles, well above the mandatory 2 miles. The power of LEDs has "caused" a problem during races: "the TS Lite is much brighter than standard navigation lights; the first skippers who installed them were too easily identified: they could not remain incognito ! ».
When cruising, even if you do not necessarily try to gain the slightest tenth of a knot, it is still important to consider the sailing boat's progression and balance: lowering weight on the masthead, means reducing windage, and therefore heeling! Being visible is a safety matter for everyone, racers and leisure boaters alike !
TS Lite: lightweight and low power consumption
As well as being very luminous, the TS Lite LED has low consumption: A real asset for racing and cruising, when battery charging is an everyday concern. Another major advantage of the LED low power consumption: you can use electric cables of a smaller diameter. The TS Lite consumes 260 mA compared to 900 mA for a standard light. The significant decrease in intensity means that you don't have to install heavy cables and this enables the installation of a masthead light which is much more visible than the deck lights, without affecting the sail boat's performance. That is particularly relevant because the TS Lite is extremely lightweight, 30 g or 50 g (for the combined light model) compared to an average of 100 to 150 g for other models on the market !
Breton navigation lights put together with love and precision
Spurred by the success of the TS Lite tricolour navigation light, Lucas Montagne developed a combined tricolour / anchor light (one level for the tricolour light and one for the 360 ° white anchor light). Highly practical, this "2-in-1" navigation light weighs only 50 grammes! The navigation light is also available in two versions: bi-colour (port/starboard), or to fix on the pulpit. Parts are manufactured thanks to 3D printing technology and are put together in Tricolore Seanergy's workshop in Etel, Morbihan. Cutting-edge products "made in Brittany" which have already conquered the masts of a small fleet of Mini 6.50, Figaro 2, Class 40 and 60′ IMOCA. Do you want to shine under the stars?The three versions of the TS Lite are available at Ino-Rope !