Description
With the embeddable version of the Constrictor textile clutch, block your control lines through the deck or the roof to save space on the organizer and avoid lines becoming entangled.
An innovative product as we like them, conceived by Julien Barnet, rope expert at Ino-Rope!
Replace the trigger with a rigid cord for precise and colourful settings!
Choose a larger diameter than your rope's in order avoid friction when easing it. Another advantage: The tensioner is – more tense! It completely eliminates the slight loss of tension when the halyard is removed from the winch.
You will need at least a one meter distance between the clutch and the mast step to install the textile clutch.
Do not hesitate to consult our detailed information guide explaining the assets of the textile clutch!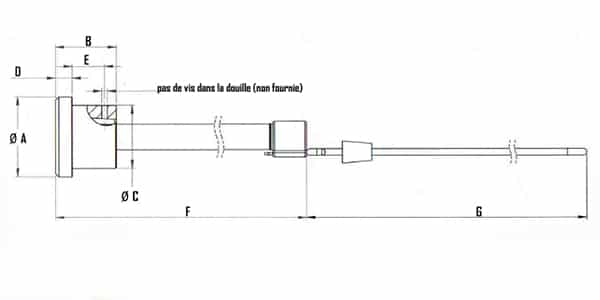 | ø Ropes max | ø ø recommended ropes | ø A mm | B mm | ø C ( to drill) mm | ø D mm | E mm | F mm | G mm |
| --- | --- | --- | --- | --- | --- | --- | --- | --- |
| 6 | 5 | 25 | 25 | 20 | 7 | 15 | 350 | 360 |
| 8 | 6 | 25 | 25 | 20 | 7 | 15 | 400 | 360 |
| 10 | 8 | 40 | 30 | 30 | 10 | 15 | 600 | 360 |
| 12 | 10 | 44 | 34 | 33 | 10 | 17 | 750 | 360 |
| 14 | 12 | 47 | 36 | 36 | 10 | 19 | 750 | 360 |
Type
ø recommended ropes
Max mm
Breaking load (kg)
Weight (gr)
6
5
450(ø5) / 750(ø6)
155
8
6
700(ø6) / 1150(ø8)
160
10
8
1200(ø8) / 2200(ø10)
165
12
10
1500(ø10) / 2800(ø12)
335
14
12
1800(ø12) / 3700(ø14)
345