Description
Ino-Block LIGHT 1.2
The Ino-Block LIGHT 1.2 is a block with a textile axle that weighs 19 grams, for a working load of 400 kg. A lightweight block which is compact, reliable, efficient, and affordable. It is suitable for dinghy sailing and cruising: easy to install, it is designed for ropes up to Ø 10 mm.
A new design:
The Ino-Block LIGHT concentrates the best technologies and materials developed with the previous Ino-Block models.
Size (L x width): 46 x 34 mm
Tried and tested technology
The innovative concept of a block with a textile axle, tested and approved during the last Vendée Globe, now exists for small blocks with low to medium working loads.
This product is suitable for dinghy sailing and cruising: reliability, lightness and efficiency and great value for money.
An innovative connector:
The Ino-Block LIGHT was designed around an innovative connector system, the I-Connect LIGHT, which enables a mounting from 0° to 90°, depending of the orientation required by the block.
The I-Connect LIGHT is a textile connector system made of Dyneema® SK78. It is lightweight and easy to install.
2 types of connector available:
Choose the I-Connect LIGHT version for quick installation and removal.
The lashing version requires more care during its mounting; it is conceived for blocks which no longer move once installed (available on request).
As the first product designed by Ino-Rope, the Ino-Block is a textile block
produced in series, based on an innovative patented concept. Extremely simple (5 parts) and efficient, the Ino-Block is lighter than all the other
traditional blocks on the market thanks to its textile technology. It is also more reliable (highly resistant Dyneema® axle) and its materials
were selected to last longer (no ball bearing or metallic parts inside).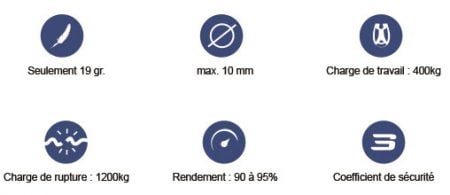 | Diamètre de cordage Max | Charge de travail | Charge de rupture | Poids | Longueur | Largeur | Hauteur |
| --- | --- | --- | --- | --- | --- | --- |
| 8 mm | 200 kg | 600 kg | 12 g | 35.5 mm | 26 mm | 19 mm |
Comparative table of textile axle block and ball bearing block