Description
Designed in collaboration with VMG Yacht Design, architects in Lausanne, we aimed to conceive a padeye with a sleek and elegant design, easy to fit and safer on decks (notably for barefoot sailors!). It is not cumbersome thanks to its flat head and is easy to fit no matter the support thickness. No extra screws or bolts needed, it can be fitted without a counter-plate and without increasing thickness. The Ino-Padeye is fully machined and made of high-quality anodised aluminium. Waterproof, of course, it is easy to install thanks to its innovative reversible nuts. No need to adjust the length of screws, this is a feature that professional users, shipyards or boat builders will appreciate. With less finishing details and accessories (screws, nuts, washers, protection, etc.). The Ino-Padeye enhances the aesthetic aspect. Different sizes available depending on the rope diameters.The screwable Ino-Padeye is ideal for use on mast step blocks, spinnaker sheets, runners, releasable stays, sheeting Ino Padeye is the missing link between textile connector systems and fixed points on board: used with a lashing, textile shackle or loop on decks or masts. Currently, the Ino-Padeye is available in three different sizes supporting a working load ranging from 800 to 3,000 kg (maximum working load).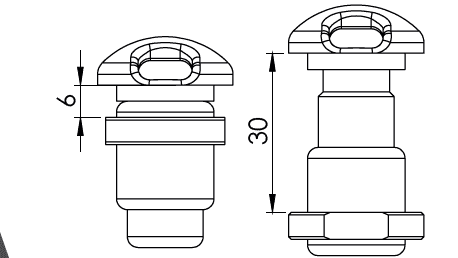 Réf
Diamètre cordage
(mm)
Hauteur de tête (mm)

Charge de travail (kg)
Charge de rupture (kg)
Poids (gr)
Diamètre de perçage (mm)
Largeur passage (mm)
IP4
4
8
800
1.600
26
18
10
IP6
6
13
1.800
3.600
56
24
14
IP8
8
15
3.000
6.000
98
30
18

At the end of last year, the Ino-Padeye, our last innovation designed in collaboration with VMG Yacht Design, was awarded a special mention from the DAME Design Awards during the METSTRADE professional boatshow, in the Netherlands!
Click here to discover the article about the Ino-Padeye
Additional information for professionals: