Ino Padeye to stick-on, 35 mm, carbon
17,90 €
Quick and easy to install, it is the perfect padeye to hang or fix all your equipment on board. Ultra-light with no drilling required, it bears a working load of 75 kg.
Description
Ino Padeye to stick-on, 35 mm, carbon
The 35 mm stick-on Padeye is the most simple solution on the market for applications under low loads, on or below deck (working load 75 kg max.). Quick and easy to install, your round 35 mm Ino-Padeye can bear up to 150 kg (breaking load), glued with Sikaflex 292i. This textile padeye is ideal for hanging or fixing your equipment on or below deck. Also, its bonding surface is sufficient for lines on deck controlled by hand rather than with a winch.Approved after a series of tests under load on our tensile test bench and industrially manufactured, Ino-Padeyes cover a spectrum of breaking loads varying from 150 to 300 kg depending on the diameter. The certification tests guarantee the quality of our products and the reliable manufacturing process allows for linear production.The Ino-Padeye can be glued with a structural adhesive such as epoxy, methacrylate or other type, but it should be noted that disassembly can be difficult and potentially destructive for the product and/or its support. This is why we recommend the use of a polyurethane adhesive type Sikaflex®, commonly used in the nautical world. This type of adhesive ensures the reliability of the product while preserving the support.
Technical characteristics:
Construction: carbon fibre
Diameter: 35 mm
Working load: 75 kg
Breaking load: 150 kg
Weight: 4.5 g
Size of the loop: 20 mm
Thickness: 3 mm
Made in France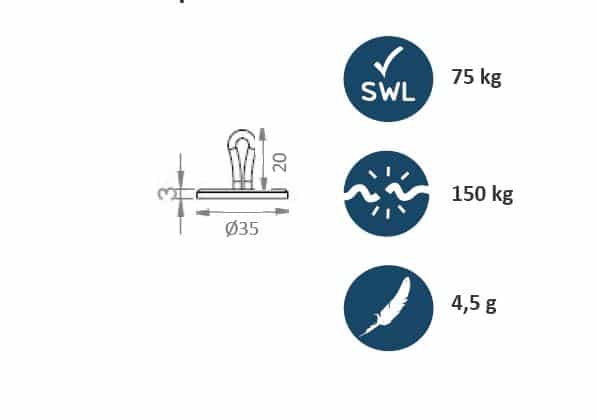 | Charge de travail | Charge de rupture | Poids | Diamètre | Épaisseur | Longueur de la boucle |
| --- | --- | --- | --- | --- | --- |
| 75 kg | 150 kg | 4.5 g | 35 mm | 4 mm | 20 mm |
Additional information
| | |
| --- | --- |
| Weight | 10 g |
| Conditionnement | 1 pièce, Pack de 5, Pack de 10, Pack de 15 |
You may also like…