Solid low friction ring
30,00 € – 67,40 €
The Antal solid low friction ring is designed for various applications. For example, you can use it for a 3D system or textile connectors.
This solid low friction ring is made up of a "mirror" polished anodised aluminium body, for minimum friction.
Description
Solid low friction ring
The Antal solid low-friction ring is eespecially designed for multiple control line systems (such as the genoa 3D clew setting for example) and textile connectors.
Compared to standard low-friction rings, the solid ring is thinner and its inner eye is larger while offering the same heavy working loads. The small outer groove allows a line to be attached in order to prevent impact on the deck.
References: R30.56, R34.64, R40.76, R50.94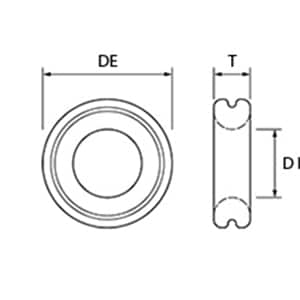 | Réf | T (mm) | DI (mm) | DE (mm) | Poids (gr) | Charge de travail maximale d'utilisation (kg) |
| --- | --- | --- | --- | --- | --- |
| R30.56 | 16 | 30 | 56 | 60 | 1.800 |
| R34.65 | 18 | 34 | 64 | 89 | 2.800 |
| R40.76 | 22 | 40 | 76 | 154 | 4.400 |
| R50.94 | 25 | 50 | 94 | 266 | 6.500 |
Additional information
| | |
| --- | --- |
| Weight | N/A |
| Size | R30.56, R34.64, R40.76, R50.94 |
You may also like…