Sale!
Ino-Block 7.2

The Ino-Block 7.2 provides a working load up to 2.4 tons in total safety! Breaking: 7.2 tons. For 135 grams only!
Only 4 left in stock (can be backordered)
Description
Ino-Block 7.2
The Ino-Block 7.2 textile block has a working load of up to 2.4 t in total safety! Breaking: 7.2 tons For 135 grams only!
The Ino-Block is a block which benefits from the TAT technology (Textile Axis Technology). This new patented technology is the result of two years of research and development based on the use of high-performance modern fibres and lightweight materials (plastic, aluminium) with low friction properties.
Advantages:
Reliable, compact and lightweight compared to a standard block with a more fragile axle
No corrosive components
Easy maintenance, just rinse with freshwater
The higher the load, the better the performance of the block
Spare parts (replacement side plates)
Safety: lightweight with plastic cheeks (significant decrease of the risk of injury in the event of impact)
100% made in France
As the first product designed by Ino-Rope, the Ino-Block is a textile block
produced in series, based on an innovative patented concept. Extremely simple (5 parts) and efficient, the Ino-Block is lighter than all the other
traditional blocks on the market thanks to its textile technology. It is also more reliable (highly resistant Dyneema® axle) and its materials were selected to last longer (no ball bearing or corrosive metallic parts inside).
Today, thanks to the rationalisation of production, we are able to create and manufacture a large volume of high quality products that combine lightness, strength and reliability, at the best price! All handmade in France by our team of nimble-fingered Korrigan-splicers. Don't wait to enjoy it!
The figures speak for themselves: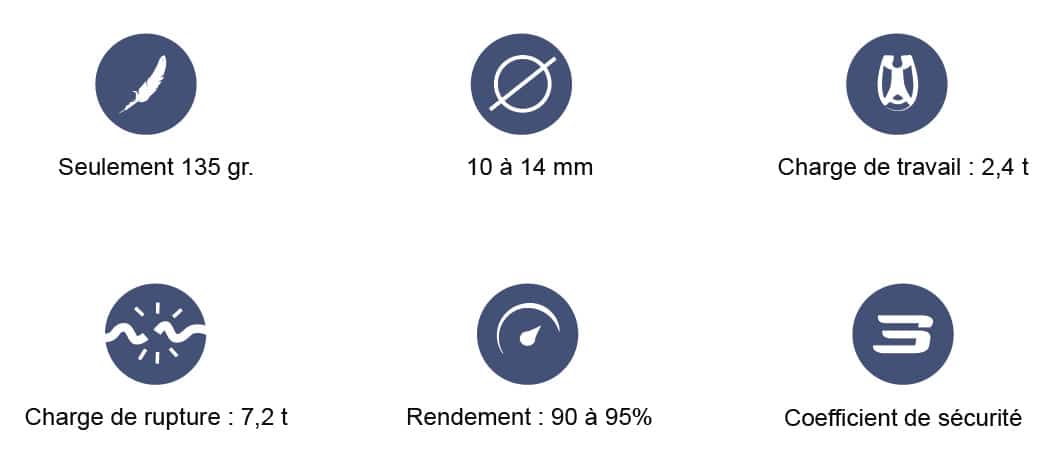 Also available with beckets.
Additional information for professionals:

| Charge de travail | Charge de rupture | Poids | Longueur | Largeur | Hauteur | Diamètre de cordage Max |
| --- | --- | --- | --- | --- | --- | --- |
| 2 400 kg | 7 200 kg | 135 g | 87 mm | 66 mm | 53 mm | 14 mm |
Additional information
| | |
| --- | --- |
| Weight | 142 g |
| With or without becket? | Standard, With becket |
You may also like…