Embeddable Constrictor textile clutch
147,00 € – 168,00 €
Replace your standard clutches with textile clutches: they are lighter, more cost-effective, more efficient and they protect your ropes from chafing. Embeddable version for through-deck mounting, and space saving on the organiser.
Description
With the embeddable version of the Constrictor textile clutch, block your control lines through the deck or the roof to save space on the organiser and avoid lines getting entangled.The Cousin Trestec Constrictor® textile clutch is a non-aggressive system that preserves the quality of you ropes and thus considerably extends their lifespan. Thanks to its pull line, it also allows easy remote release even under load. Three times lighter and twice as strong as a classic clutch, the Constrictor® textile clutch offers you ease of use combined with flawless efficiency. It consists of a Technora® aramid fibre braid that closes under tension on the rope and locks it instantly. The more tension there is, the more effective the blocking is, without ever damaging your rope. The release is easy even under heavy load: Simply retract the sheath to release your rope.
Advantages:
Non-aggressive constriction blocking system that preserves the performance and lifespan of your ropes
Easy, efficient and safe release
Lighter and stronger than a classic clutch
The more tension there is, the more effective the blocking is.
Construction:
Metal baseplate
High-tenacity black Technora® cover
Dyneema® release lanyard to unlock the clutch
references: from Nr 6 to Nr 14
To find out more about it, here is an article: ARTICLE and VIDEO HERE!
Installation:
The constrictor is compatible with most existing ropes (except for ropes with a Dyneema® or Spectra® chafe sleeve).
Each Nr is related to the recommended rope diameter: Nr 8 for a Ø 8 mm rope).
Ino-Rope's tip: To ease faster if necessary (for example: spinnaker halyard) use a smaller rope diameter than of the clutch (for example: Use Ø 6 mm rope for a Nr 8 clutch)
Taille du bloqueur
Charge max / Taille de cordage
Poids total
Longueur de gaine
Constrictor N°6
450 daN / Ø 5 mm
750 daN / Ø 6 mm
155 g
55 cm
Constrictor N°8
700 daN / Ø 6 mm
1150 daN / Ø 8 mm
160 g
60 cm
Constrictor N°10
1200 daN / Ø 8 mm
2200 daN / Ø 10 mm
165 g
60 cm
Constrictor N°12
1500 daN / Ø 10 mm
2800 daN / Ø 12 mm
335 g
75 cm
Constrictor N°14
1800 daN / Ø 12 mm
3700 daN / Ø 14 mm
345 g
75 cm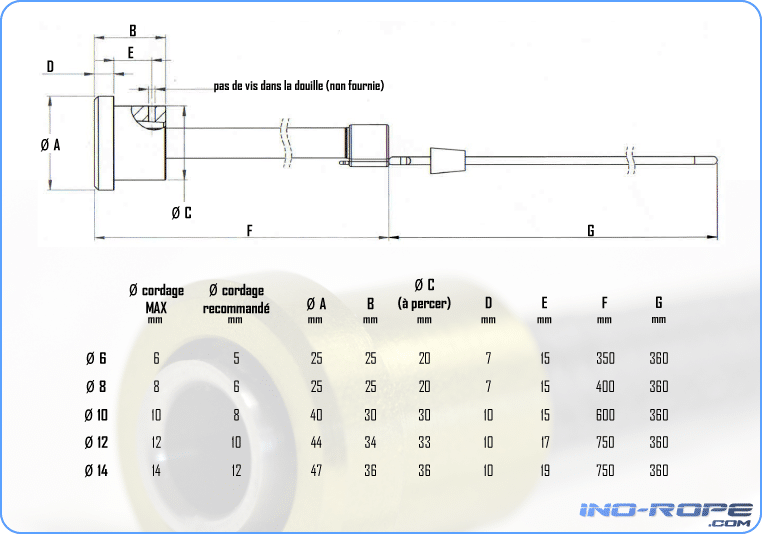 Additional information
| | |
| --- | --- |
| Weight | N/A |
| Ø (mm) | 6, 8, 10, 12, 14 |
You may also like…
Sale!