Which fibre for which application ?
Which rope should be used for your ropes, halyards and mooring lines? Choosing the right fibre according to its use, guarantees your ropes' performance, durability and reliability. Ino-Rope has established a comparison between different types of fibres to guide you with your choices.
Comparative table of different fibres

Polyester: The all-round fibre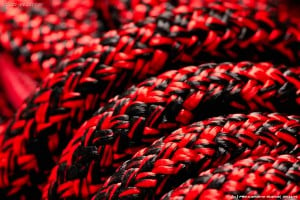 Its excellent value for money explains the success of this fibre, which is oil-derived. Mass production in the textile industry has led to slashed prices. The principal quality of polyester is its longevity: high resistance to UVs, as well as to chafing. In fact, this characteristic makes it ideal for protecting delicate cores: Nearly all the covers on the market are either made of or contain polyester. Its only fault is its elongation to break (elasticity), which can vary between 8 and 12%, according to the quality of the fibre. In this respect, one should favour "high tenacity" polyester, whose elongation is inferior to that of average quality polyester. Perfectly suited to a cruising programme, polyester halyards and sheets are not a panacea in regattas, as the elasticity of the lines affects the precision of settings. Find our Polyester ropes here.
Quality / cost/ longevity ratio
Elongation at break (for regatta)