How to choose the right snatch block
The snatch block allows the replacement of a damaged block without having to pass the rope back through the blocks and idler blocks. It is also very practical for the barbers, provisional blocks and tackles, foresail changes and any other uses that require sheet changes.
Ino-Snatch Block 1.2: lightweight and multi-purpose
Thanks to the opening Ino-Snatch block, manoeuvres will be simplified on board your sailing boat. The Ino-Snatch Block is one of the first opening blocks designed with a patented concept: without ball bearings, its technology has been simplified to the utmost, in order to limit risks of corrosion while providing high resistance. Highly robust, this snatch block is easy to fit on a rope and its locking system avoids all risks of uncontrolled opening under load. The Dyneema® connector (textile shackle) can be attached to a fixed point or a line.
An 100% made in France snatch block!
The opening Ino-Snatch Block provides exceptional freedom of use, as its working load is 400 kg and its breaking load is 1200 kg. It also stands out by its light weight: It weighs only 28 grammes! This snatch block is the ideal solution for your barbers, in-haulers or as a spare block on your sailing boat. Its opening system enables the block to be manipulated with only one hand, as its "click" when closing is audible. Ino-Rope tip: A Dyneema® loop has been added in order not to lose it when it is open !
The opening Ino-Snatch Block, in a nutshell:
Unpaired lightness
High breaking load
Easy to open
No risk of corrosion
The ideal solution for barbers or in-haulers

Antal snatch block: efficient and useful
The Antal snatch block stands out due to its performance (low friction) and its easy use. It can be fixed anywhere on the deck. Besides, the rounded fixing point allows it to be fitted with a lashing or a textile shackle. A second small fixation point allows the block to be attached to an elastic. Moreover, the cheek plate also opens like on the Ino-Snatch block, by pivoting around the axle of the sheave. This system enables a rope to be passed through a block without having to remove it. In terms of security, a ball with adjustable hardness, thanks to a spring, prevents accidental opening of the block. Antal even thought of covering the cheeks with a rubber coating that is yellow and protects deck and portholes from shocks: good thinking! Efficient and practical, the Antal snatch block has only one weakness: its weight, it is heavier than its textile rivals.
It is possible to pass a rope through without removing the block.
Rubber padding which protects the deck and the portholes from shocks
An efficient but heavier block than other textile models on the market
The Antal block is the only one that can be opened with one hand!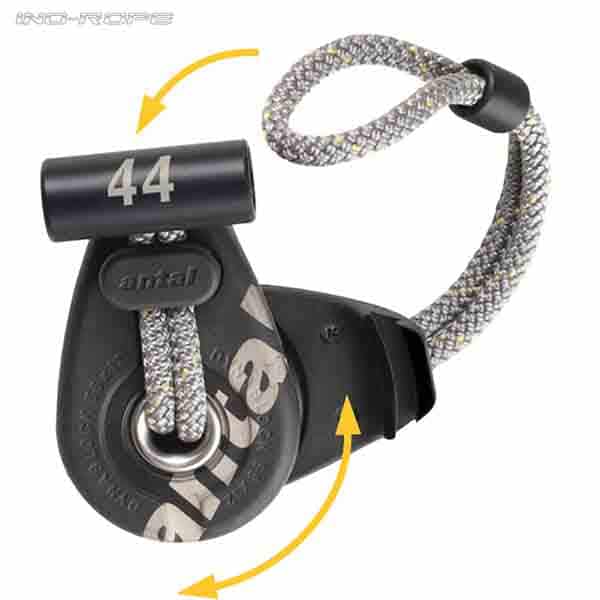 Antal Hook: light weight and resistant
The Antal Hook is closer to a friction ring than a block (see our article on the subject "Block or no block"?). The rope rubs against an anodised aluminium part. The U-shaped part is solidly attached to a spliced loop made of Dyneema®. This loop opens by removing the splice from the DogBone, also called T-bone (a "gold-coloured" metal part). The rope is inserted into the U-shaped part. It stays in place thanks to a "pin" mounted on a spring. The light weight of Dyneema® rope is ideal for use where excess weight could be a penalising factor. The Antal Hook, for instance, can be used to replace a barber-hauler block in order not to weigh down the spinnaker sheet in low wind conditions. However, its performance is inferior to the snatch block of the same brand.
Aluminium and Dyneema®: Ultra-light material
Spare Dyneema® loops are available
Lower performance than that of a standard block
The Antal hook is a versatile product that can be hooked anywhere: tack, mast foot, barber-haulers, etc