Ready to Use Spliced Ropes : Ino-Rope launches its product range!
Select, rig…sail! 
More than 1500 references, designed to suit your type of navigation:
Ino-Rope 's choice
1.


Let us guide you among
our spliced ropes
according to your needs

Click on "Ready-to-use"
2.


Click on "Ready-to-use"
select your ready-to-use rope,
designed to last

Guaranteed quality
3.


Your product is spliced
in our workshops
SATISFIED OR EXCHANGED

GOOD DEAL!
-15%when purchasing a ready-to-use rope
> Coastal cruising : are you sailing with the coast in sight or from island to island? Find affordable and easy to use spliced ropes in our selection.
> Offshore cruising:  : are you sailing on the open sea and embarking on long trips? Our products meet the needs of semi-offshore sailing by ensuring reliability, safety and durability.
Regatta and offshore sailors: choose from our custom-made selection
Lightness and high resistance for optimal use ? Lightness and high resistance for optimal use ? We know that the spliced ropes required for regattas and offshore racing have their own specific requirements. Our range of custom-made, tested and approved seagoing ropes will meet your needs.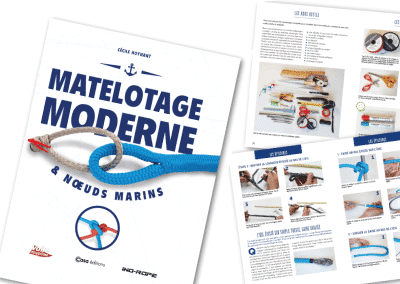 Many of you follow our ropework tutorials on our blog. Many of you also ask us technical questions about materials, rope structures, textile connectors, etc. Good news! All the answers to your questions can be found in the "Modern Ropework & Sailing Knots" guide, published in partnership with Voile Magazine.
The first comprehensive guidebook on modern ropework that compiles detailed step-by-step tutorials, enriched with suggestions on how to work more efficiently and avoid certain pitfalls. A comprehensive introduction gives the essential information about the different materials, rope structures, tools and vocabulary to enable you to learn by yourself.