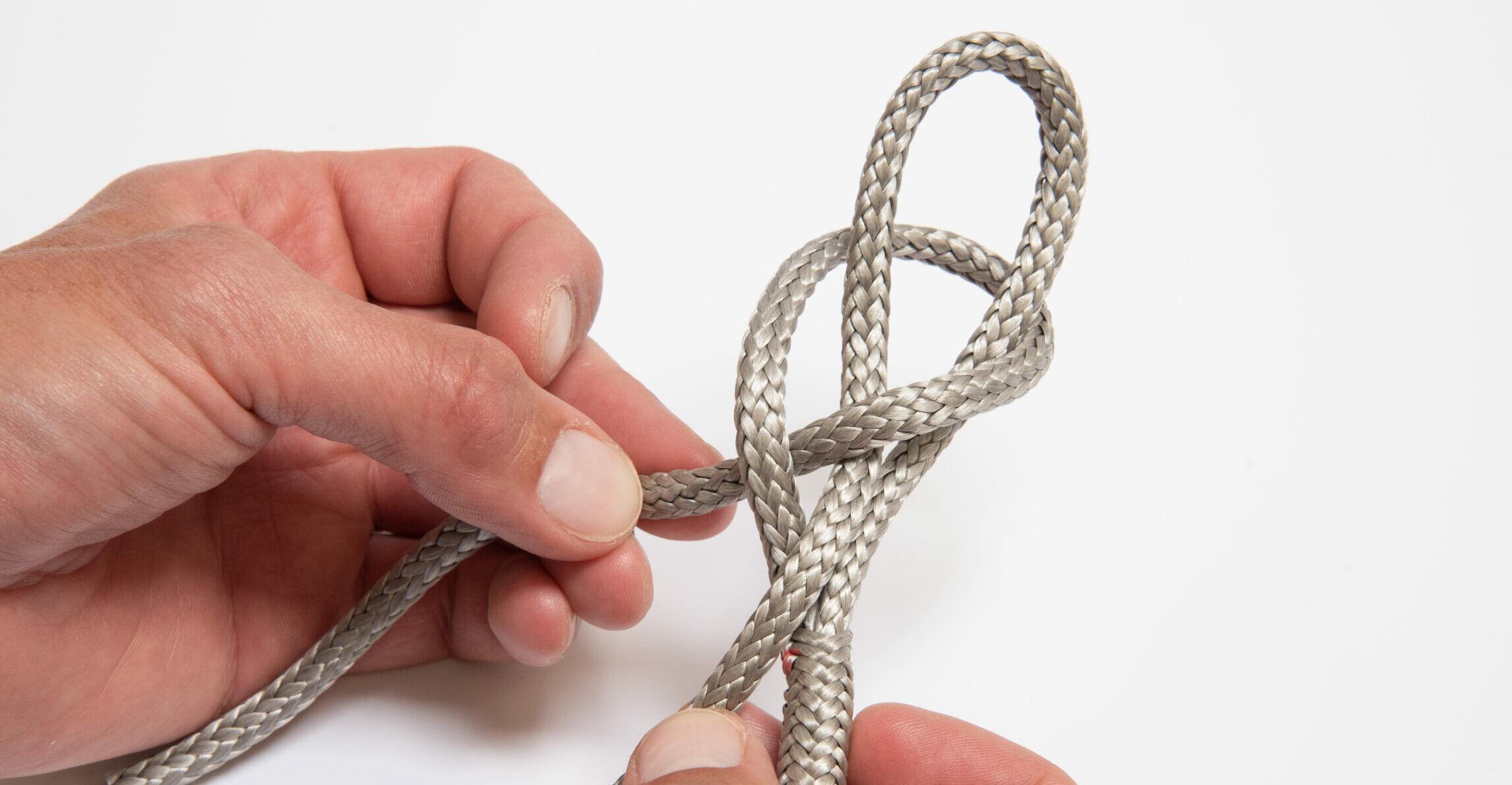 The ultra-easy textile shackle without splice – the Ino-Rope style shackle

It is commonly called "textile shackle". The latter is now an essential component of modern splicing. Because they are light and robust, textile shackles have consequently surpassed their stainless steel cousin for the connection of blocks, sheets and other halyards. Therefore, numerous versions are available on the market today, including some that require real dexterity and expertise to make them. That is why we introduce here, a simplified and fast model (and hence referred to as "the shackle for everyone"). So, to sum up, you won't need to do any splicing, and therefore, the tools required will be limited. Consequently, this shackle is a very practical solution with regard to the simplicity of its construction.
Shackle without splice: instructions !
After our tutorial about the textile shackle with splice, we explain how to make a simplified version of the textile shackle. This product is very convenient to use during navigation, for foresails notably. Like all textile shackles, it is comprised of a knot and an eye. Besides the fact that it is not spliced, it remains just as robust, even though its construction is more accessible. As the strands are easily balanced, this shackle is highly reliable. Simple and efficient, this shackle can be opened and closed with the snap of your fingers….
Time saving
So, to make this textile shackle, we have used different tools. First, you will need a metre of single-braid tightly braided rope. You will also need a few splicing tools: a spike, a hollow fid, a marker-pen, a lighter and measuring tape. All products used in the video are listed below the page; feel free to have a look! Visit our on-line store to see all our products. Over to you!
The textile shackle with Dyneema® core tutorial
The Diamond knot is also called Lanyard knot. It is a stopper knot with two strands, and is voluminous with protuberant edges. Despite its old age, it remains a choice knot in the world of yachting. Besides, it is an excellent textile shackle stopper-knot made of Dyneema® braid. Thus, the diamond knot is much more than a basic knot: ultra-resistant, it is, therefore very efficient for bearing a load, especially when it is used as a stopper-knot. Apparently, its name comes from the fact that it used to decorate the whistle cord that the bosun used to wear around his neck.